As a financial institution, one of the most crucial aspects of a good marketing strategy is ensuring your members' digital experience is top-notch. Estimates put the range of digital interaction anywhere between 70%-90% of total interactions for most FIs. This means that your audience's perception of you can be almost entirely defined by your interactions online. Losing this face-to-face aspect of the business can also impact the amount of feedback FIs receive from their members.
Without a comprehensive marketing strategy that includes automation, it can be difficult to narrow down specific audiences and gather important data. When casting a wider net, you risk alienating audiences who are tired of receiving irrelevant content. In this article, we explore how one credit union takes advantage of Prisma's technology and expertise to craft better strategies and revamp its digital presence.


Meet CU of Colorado
Credit Union of Colorado (CU of CO) was founded in 1934 and has been a valuable resource to members of its community since then. They now serve over 150,000 members and plan to continue growing well into the future.
CU of CO partnered with Prisma before to restructure its account opening advertising. CU of CO was running into other issues concerning its members' online experience. Conversion rates for a new HELOC offer that allowed members to lock a portion of their balance at a fixed interest rate were stagnating. CU of CO suspected that their targeting was off because the offer was a win-win solution.
CU of CO had also recently rolled out an Interactive Voice Response (IVR) system and was struggling to generate feedback on its usefulness. CU of CO was concerned that the attempts to reach out to IVR users were off target, and that the response forms used to capture the information were outdated. This was especially troubling, as member feedback had been steadily declining since the beginning of the pandemic in 2020.
The Solution
In both cases, CU of CO needed Prisma's help to identify and reach the correct audience. Their concern was that irrelevant messaging could make their members opt out of marketing material entirely, causing them to miss out on offers that suited them. This all-or-nothing messaging strategy was hurting the members' digital experience and was causing metrics around CU of CO's offers to suffer.
HELOC Campaign
With Prisma's marketing automation technology, CU of CO was able to accurately identify and market to their existing HELOC customers, an audience of approximately 3,900 people. Prisma helped create a series of banner ads and pop-ups for mobile users, and these ads were set to stop appearing for those that had already made use of the HELOC product. This allowed CU of CO to restrict their communication about the HELOC product through traditional channels and cut down on opt-out rates.
The process was also adjusted so that when the member completed their portion of the HELOC product application, a Zendesk ticket would automatically be filed with the credit union. This reduced the amount of intervention necessary to complete the process and helped the CU save more time.
IVR Campaign
Prisma helped CU of CO's Member Experience team craft a new IVR Feedback form, enhancing its functionality and making it more navigable. This included features like allowing respondents to choose between responding immediately or asking to be reminded later. With Prisma's help, the credit union was also able to use their data to accurately identify frequent users of the IVR system and ask them for their feedback, rather than casting a wide net. Like the HELOC campaign, the material was conditioned to stop appearing for those that opted out, or those that had already completed the survey.
Results
Thanks to the automation and strategy that Prisma brought to these campaigns, CU of CO dramatically reduced the number of irrelevant communications it sent to its members. Opt-out rates among the credit union's primary channels have fallen, and both campaigns saw significant upticks in open and conversion rates compared to their predecessors.
In particular, the initial push of the IVR feedback campaign reached 249 of its 274 intended targets and reached a 16% conversion rate. Revitalizing this campaign has helped CU of CO see other opportunities to extract member feedback and prepare for "zero party" data capture. CU of CO will continue to implement the strategies from these campaigns, as well as expand their use of automation and personalization in future marketing.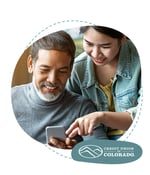 CU of CO is now confident that it is on the right track concerning their members' digital experiences. To see a full breakdown of how Prisma tackled these issues and helped the credit union make better use of its data, see the CU of CO case study. If your credit union could use marketing automation to shake things up, schedule a demo today and see just what kind of difference Prisma can make for your business.
Image credit: Adobe Stock