A few weeks back, Jim Marous, Co-Publisher of The Financial Brand and CEO of the Digital Banking Report wrote an in-depth article about the untapped power of SMS in banking. The piece noted some palpable indicators that this channel cannot be left out of your financial institution's marketing strategy.
In this post, we explore how integrating the SMS channel can help your bank or credit union stay agile in the ongoing coronavirus era when rapid, contextual, multi-channel communication is essential.

SMS marketing's impact in numbers
SMS (short for "short message service") is synonymous with text messaging. Up to 160 characters of text can be sent via SMS to another device (longer messages are usually split into multiple messages).
It's quickly becoming a preferred channel for members, for good reason: it's informal, it doesn't take long to engage, and (as of 2018) more than 5 billion people worldwide had access to texting since it doesn't even require a smartphone or internet access.
"When it comes to direct marketing, no channel is more immediate or impactful than SMS marketing," Marous states in the Financial Brand article. "With consumers having their phone in hand almost every waking moment, the speed of message delivery and engagement for SMS text messages is hard to beat. Text marketing is also very cost-effective in comparison to other forms of digital marketing and advertising."
Let's take a closer look at some of the stats shared in the article: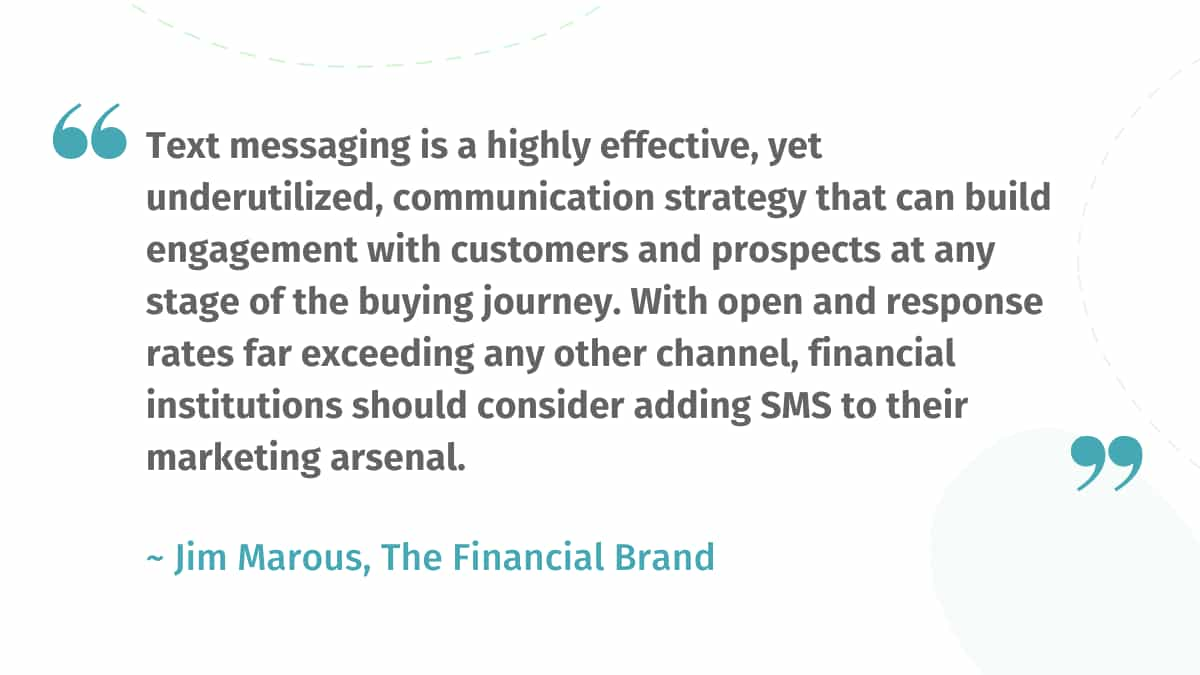 Source: The Financial Brand, The Untapped Power of SMS Marketing in Banking
What to communicate via the SMS channel
Since they're short-and-sweet by nature, text messages are a great way to boost compliance and member loyalty with a captive audience (particularly since each text message can be tailored to each recipient by leveraging your first-party data).


The SMS channel can be used to effectively communicate straightforward operational and marketing messages such as: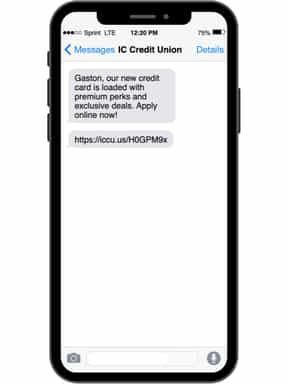 Announcements (e.g. new products and services, offer eligibility, location-based campaigns)
Confirmations (e.g. appointment bookings, call-back requests, balance and transfer requests)
Notifications (e.g. monthly statements, tax documentation, time-sensitive messages, planned OLB maintenance)
Alerts (e.g. insufficient funds, overdraft, fraud alerts)
Reminders (e.g. upcoming bill deadlines, payslip reminders)
Tip: don't go overboard. Research suggests that two texts a month is the magic number to stay top-of-mind, but not irritate. So make them count!
How your bank or credit union can integrate the SMS channel
If you're no stranger to Prisma Campaigns, you already know that our all-in-one marketing automation software allows marketers to increase conversion and engagement by orchestrating targeted marketing campaigns across several channels from a single place.
SMS has been a part of our strategy at Prisma Campaigns since the beginning and we have support for pre-integrations with multiple SMS providers. As part of our omnichannel approach we believe that combining SMS with other channels like email, online banking, and mobile banking is key to any successful digital marketing strategy. It empowers financial institutions to have a coherent and effective approach to engaging with their customers.
Prisma Campaigns allows you to reach your customers on their cell phones via SMS in a way that is simple, personal, and easy to implement. We work with several providers to carry out this operation including, but not limited to, Twilio, Amazon, and Infobip.
Last year we were seeing that, increasingly, credit unions members were vocalizing their want for text messaging to communicate. So, in spring 2020 we partnered with our friends at Eltropy, a platform that enables credit unions to communicate with members over text messaging in a secure and TCPA-compliant way, to integrate their solution as an additional SMS delivery channel simplifying the adoption process for credit unions and enabling even more sophisticated use cases.


Here are just a few sample scenarios that we can enable for financial institutions by combining Prisma Campaigns with SMS:
SMS to retrieve an abandoned loan application
Texting members to update their information and communication preferences (this is an SMS with a link that drives members to a landing page)
SMS to a quick survey regarding member experience


When combined with communication policies (a way to define a series of rules to limit the number of communications over a given time window), our customers have reported that SMS marketing is a very effective method to connect with a wide audience and increase the probability of engagement and conversion.
One year into the pandemic, delivering personalized communications through preferred member channels continues to be an effective way to mitigate member anxiety. So, if you were looking for a sign that it's time to start addressing the SMS channel, this is it!
Contact us to learn more about how Prisma Campaigns and our integrations can help you with SMS marketing.
Image sources: Adobe Stock & Prisma Campaigns