"Prisma Campaigns shares a similar passion to provide the best service and product to its customers and also provides us the ability to offer a more targeted marketing automation solution for Credit Unions in this pandemic-era where Text Messaging is especially important."
- Ashish Garg, CEO and Co-founder of Eltropy

This integration helps Credit Unions stay agile in the coronavirus era when rapid, contextual, multi-channel communication is essential.
Text messaging is quickly becoming the preferred channel for many members. Prisma Campaigns allows you to increase conversion and engagement by orchestrating targeted marketing campaigns across several channels, including online banking, mobile banking, email and now text with Eltropy.
Felipe Gil, CEO of Prisma Campaigns, said, "Eltropy listens to and understands what the Credit Unions need, and what their timing is. Unlike other providers on the market, Eltropy isn't a steamroller, one-size-fits-all solution. It gives Credit Unions exactly what they want – personalized communications capabilities, in a way that is uncomplicated, secure, and compliant."
"Increasingly, Credit Unions are hearing from members that they want Text Messaging to communicate. Prisma Campaigns' omnichannel approach and ease-of-use of Eltropy's platform make this new partnership a powerful value proposition for Credit Unions." added Gastón Vizziano, Global Solution Manager at Prisma Campaigns.
The partnership is timely, as Credit Unions are seeing a redefinition of the ideal member experience
due to COVID-19. As a result, agility and operational efficiency are now key values members need and expect. Eltropy and Prisma Campaigns recognize that delivering personalized communications through preferred member channels is an effective way to mitigate anxiety during these uncertain times.
The agility both companies demonstrate and their commitment to using technology to address business challenges and create value for the community make this a strong partnership that goes beyond technology integration.
* CUNA Strategic Services selects Eltropy as the 'best text messaging solution' for credit unions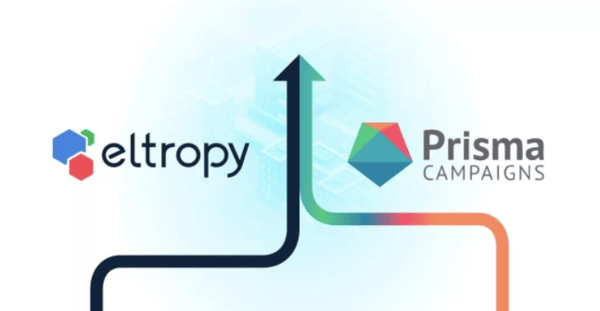 ---
About Eltropy
Eltropy enables Credit Unions to communicate with members over Text Messaging in a secure and TCPA-compliant way. Using Eltropy's platform, Lending, Collections, Sales, Marketing, Service, Risk Management, Internal Communications and other teams at Credit Unions leverage Text Messaging to boost member engagement and enhance the member experience. Eltropy also integrates with IT systems, such as Symitar and Corelation, and uses Analytics to provide member engagement insights. For more information about Eltropy, please visit eltropy.com.
About Prisma Campaigns
Prisma Campaigns is the first agile marketing platform designed for Financial Institutions to deliver personalization at scale. By leveraging existing data, banks and credit unions can segment and execute relevant, personal and contextual communications across all channels in order to make each client feel seen and heard. The result? Deeper customer relationships and increased share of wallet. For more information about Prisma Campaigns, please visit prismacampaigns.com.
Image credit: Prisma Campaigns and Eltropy