One of the most powerful ways to grow your business is through content marketing. Effective content does require thoughtful planning and effort, but the results are worthwhile. Research shows that businesses with blogs can generate up to 67% more leads1 per month compared to those without.
Content marketing comes in many forms, including short and long-form blogs, infographics, videos, podcasts, and more. Here are five ways to create a successful content strategy and accomplish your goals, whether you aim to educate consumers, build trust, or generate awareness for your financial institution.
1. Start with a Calendar
If your content isn't planned out, there's no way to hold your team accountable. By giving your content marketing some structure, you can visualize the next three to six months in advance while leaving room to incorporate content on recent trends and events.
It's easy for content to fall by the wayside, so scheduling time for research and rounds of editing can make a big difference in successfully publishing your content. If you're starting a blog from scratch, you can start with monthly or bimonthly pieces of content so you fall into a rhythm and don't get overwhelmed.
2. Write Data-Driven Content
Powerful statistics and personalized content are eye-catching for consumers. Financial institutions have access to valuable data collection through your consumer data software and buyer personas, but you can also gather more data through interviews and surveys. By releasing data-driven content, you'll attract more high-quality leads and engage with your current consumers through these relevant pieces.
3. Optimize for SEO
Optimizing for SEO can boost your search engine ranking and create a personalized user experience for web visitors. Some of the ways you can optimize content include using strategic keywords, meta descriptions, internal links, and optimized images. If your content ranks high on a search engine, you'll want to make sure that it's different and offers something unique for potential visitors to your website.
4. Distribute on All Channels
Potential leads are all over — they're not all on one magic channel. That is why it's important to distribute and promote your content on different channels, including social media, email, and organic search. If someone misses your content on LinkedIn, it shouldn't be gone forever. They could see it in the email newsletter the next week or on another social media platform when the content is reused.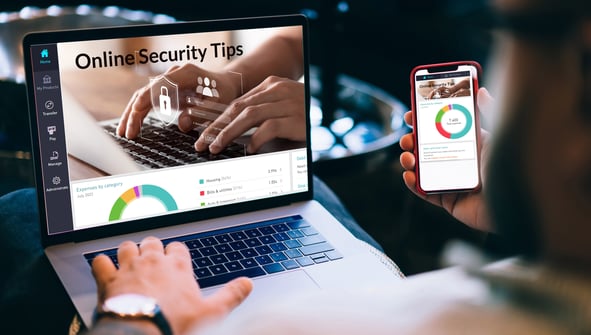 It's also a good idea to explore other distribution options, and some nontraditional channels include text, your online banking portal or your mobile app. Prisma helps financial institutions promote content in these channels to draw consumers' attention to important topics like security and financial education. By using Prisma, you can promote different articles with these topics to ensure your members/customers see them.
5. Track and Reuse Content
It's incredibly useful to track your content's performance. This informs future strategy and can help your team determine the budget for the next year. If you're putting the work into building a detailed content calendar and promoting it across all of your channels, then a majority of this work goes to waste if you aren't tracking performance to see what is working and what needs improvement.
You can also see if your content performs well on a certain medium, or if one particular piece drove a high number of people to your website. You might also feel that a piece with valuable data needs more promotion and attention in the future. You can reuse and repurpose content by turning a blog post into a video or social media thread, and you can break down a whitepaper into a shortened blog post. It's important to remember that a piece of content doesn't only need to be seen by the world once — it can have multiple lives!
Prisma can help your FI track and run high-performing, omnichannel content campaigns. Learn what our marketing automation software can do for your financial institution, and visit Prisma's blog posts for more useful marketing tips and strategies.
(1) Why Blog? Statistics Show the Benefits
Image credit: Adobe Stock