Over the past year, you've probably seen headlines announcing massive leaps in the capabilities of artificial intelligence. Teams are using AI to generate content and to manage data much more efficiently, making it extremely popular for up-and-coming businesses with too much on their plate.
But, while artificial intelligence brims with potential, marketing teams may find that it only addresses some of their needs. In the Marketing Association of Credit Unions' annual "Board Shorts'' newsletter, some leaders in the community shared their thoughts on AI and its role in the industry. As Michelle Markham, marketing manager over at SkyOne puts it, "...I often remind myself and the team to remember we still have a brand voice. I look at these tools as 'jumping off points'."
That's where using AI as a part of more comprehensive marketing automation campaigns comes into play. Leveraging AI's capability as more of a "role-player" allows financial institutions to bring out their true marketing capabilities while retaining the valuable human element in their marketing strategy.
We've identified three key areas of campaigns where AI helps boost performance, reduce legwork, and transform strategy when implemented as part of a larger marketing automation strategy.
Content Creation and Distribution
Content creation via artificial intelligence can assist in batch creation, and can also occasionally provide a creative spark when writers experience a block. Having trouble thinking of the right way to structure your article? AI can give you 2-3 examples in a matter of minutes, and while those articles may not have perfect syntax, they can help professional writers get up and running with a new idea.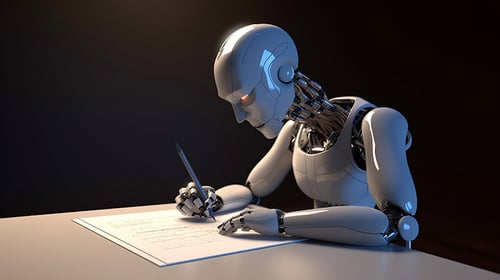 Marketing automation helps your AI assisted content reach its full potential. With automation, you can plan and distribute content along specified lines, ensuring that audiences are carefully selected and promptly notified. Content marketing is always a delicate balancing act between the creation of niche content and targeting audiences. By combining the strengths of AI and automation, both of these areas can be addressed simultaneously.
Data Analysis
Gathering and analyzing data sits at the forefront of modern marketing strategies. While AI makes this process significantly faster in many cases, it may fall short in its ability to extrapolate and engage with multiple sources. FI's looking to gain a comprehensive picture of their audience require systems that can be integrated effectively.
Over the last decade, automation has become a critical component of lean bank and credit union marketing teams. Systems like Prisma integrate data from disparate sources, and tailor the analysis of this data to provide marketing leaders with clear, actionable, behavior-based communication solutions.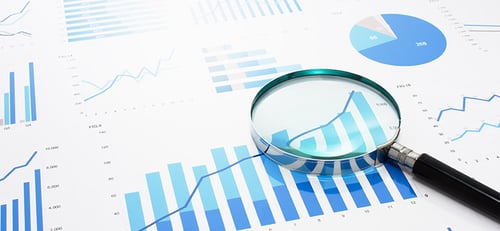 Automation allows you to read and react to your data in new ways and with a grander scale, providing you more accurate snapshots of consumer behavior (e.g. when they clicked a personalized CD maturity offer) and timely opportunities to react to changing behaviors (e.g. when a consumer has not engaged your digital banking tools for over a month). While AI and automation may seem similar with regards to data analysis, where and when you get your data can play a major role in the effectiveness of your campaigns.
Campaign Planning
AI's ability to analyze data at a glance can prove invaluable to marketing teams whose aim is to replicate past success. AI assists in pattern recognition, which is crucial to evaluating the effectiveness of campaigns and determining factors like target audiences, timing, and channel selection. However, allowing AI to determine the direction of campaigns going forward may leave out some crucial human elements.
When used as a part of a larger automated strategy, the data analyzed by AI helps marketing teams narrow their focus and choose the most effective solutions. Once a creative direction has been determined, automation can then run multiple campaigns simultaneously, without crossover or confusion, and switch them on or off depending on a larger strategy.
For financial institutions, creating campaigns that are relevant and unique is especially important. Recent data indicates that people see FIs as interchangeable, but are hard to unstick from their current provider. "Data driven" is an often used phrase in the industry, but algorithmically determined campaigns may lack the distinguishing features that FI's need to earn new business and outdo their competition.
If you want a closer look at some of the ways Prisma can help you avoid blending into the crowd, check out our case studies on a few of the businesses we've helped recently.
The Automation Advantage
Prisma Campaigns is helping financial institutions transform their marketing efforts with scalable automation. If you believe marketing automation could be the solution for your business, schedule a demo and see just how far Prisma can take you.
Image credit: Adobe Stock