2023 has already started, and we're thrilled to announce that we're kicking off the year with a bang. Once again we are attending two major credit union events. These events are an excellent opportunity for us to connect with others, share our expertise, and talk to credit unions about their challenges and ideas for the year.

If you are attending either of these events, we'd love to connect with you and discuss ideas. We're certain we can help your credit union achieve its marketing goals.
Keep reading to learn more about these events and how you can meet with our team.
CUNA Governmental Affairs Conference (GAC)
Feb 26 - Mar 02, 2023 | Washington DC
The CUNA Governmental Affairs Conference (GAC) is an annual event that brings together credit union leaders, policymakers, and industry experts to discuss the latest legislative and regulatory issues facing the credit union industry. The conference, organized by the Credit Union National Association (CUNA), provides a unique opportunity for credit union professionals to engage with key decision-makers and influence public policy.
The GAC is one of the largest and most influential credit union events of the year. It is attended by thousands of credit union professionals from across the country, including CEOs, board members, and staff. The conference features various educational sessions, panel discussions, and keynote speeches on advocacy, leadership, and the future of the credit union movement.
Here is a sneak peek of last year's conference. Make sure you walk by our booth and get your shoes shined!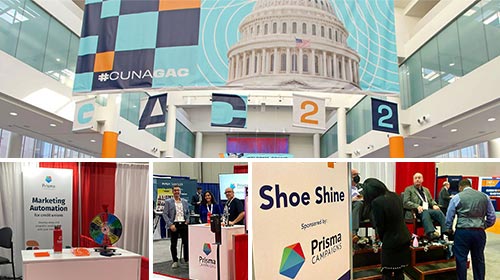 CUNA Marketing & Business Development Council
Mar 26-29 | Orlando, Florida
The CUNA Marketing & Business Development Council is a professional association that serves as a resource for credit union marketing and business development professionals. The Council is a part of the Credit Union National Association (CUNA). Its mission is to provide credit union professionals with the knowledge, skills, and resources they need to market and grow their credit unions effectively.
The Council offers a variety of resources for credit union professionals, including educational webinars, conferences, and networking opportunities. This annual conference is one of the most important events in the credit union industry. It allows attendees to learn from experts in the field, network with peers, and stay up-to-date with the latest trends and best practices.
Take a glance at our booth from last year's conference. Stop by and take one of our fun gifts.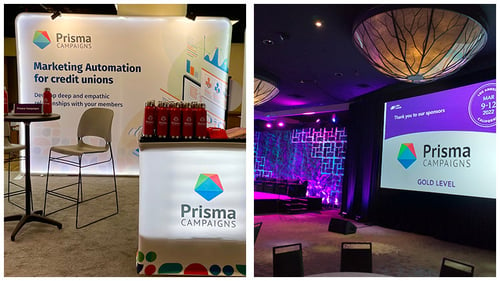 Take control of your advertising efforts and see what Prisma's marketing automation software can do for your financial institution. Check out our blog posts for more helpful marketing tips and strategies.
Image credit: Adobe Stock