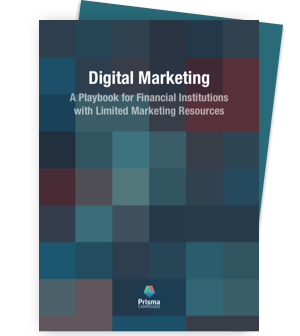 In today's COVID-19 context, it's clear that FIs must reach consumers digitally and that fast response is the real competitive advantage.
We developed this Digital Marketing guide pre-COVID, but believe that it's relevant now, more than ever. We're having to find ways to function—dropping projects that don't make sense, starting new ones to address current needs, and solving critical problems (like how to have meaningful conversations with customers across channels that deepen relationships and aren't purely transactional).
With the end of the pandemic not yet in sight, some experts say this could be our new normal...
Tackling digital marketing as a small or mid-size FI with a modest marketing team and limited resources is hard enough in a non-pandemic reality. Now, striking a balance between goals and resources is harder than ever (particularly because you can't rely on guidance tailored to the big banks).
Enter The Digital Marketing Playbook, an essential guide to unlocking ROI through customer retention, playing to your strengths, and adopting an agile mindset.
Download it now and you'll also unlock four digital marketing actions you can execute today to simplify campaigns, maximize performance, and improve customer experiences.
Image credits: Prisma Campaigns.