The credit union space is rapidly changing and fiercely competitive—you cannot afford to let your marketing efforts fail to reach the right targets or miss out on valuable member insights.
Luckily, savvy credit unions are gaining an edge in the marketplace by integrating systems like the Trellance M360 data analytics platform with Prisma Campaigns and FlowTracker Analytics.
Together, these systems give credit unions the insights they need to better understand their members and their respective needs and enable them to deliver targeted marketing campaigns efficiently and simultaneously across multiple digital channels.


Webinar Details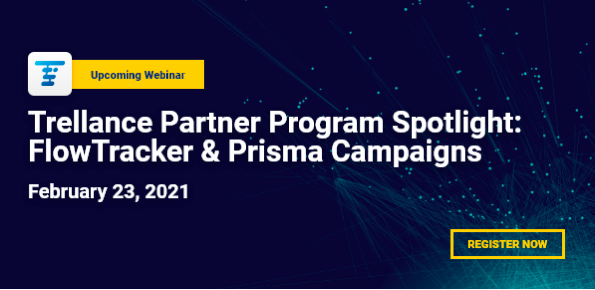 Join us on Tuesday, February 23rd for a special webinar as we give you an inside look at these platforms and the hidden opportunities they can unlock for your credit union.



DATE: February 23, 2021
TIME: 2pm-3pm Eastern Daylight Time (New York, GMT-04:00)
Speaker Lineup

What you will learn in this webcast:
How Prisma Campaigns and FlowTracker Analytics integrate with M360.

How Prisma Campaigns and FlowTracker Analytics combine with data from M360 to boost credit union performance.

How Prisma Campaigns enables credit unions to improve member targeting, deploy automated and personalized campaigns to cross-sell, and convert leads across email, online banking and SMS.

How FlowTracker Analytics provides smarter performance management, targeting for accelerated growth, a deeper understanding of depositor behavioral dynamics and more.
About Trellance

Trellance is the leading provider of data analytics and business intelligence solutions, professional services and consulting for credit unions. The company's solutions and services, together with the patented common data model of its signature M360 product, are used by credit unions to find actionable insights, improve member experience and achieve portfolio growth. Founded in 1989, Trellance is headquartered in Tampa, FL. and serves more than 1,500 organizations throughout the United States.


About Flow Tracker Analytics

FlowTracker Analytics, provides multi-platform advanced analytics capabilities to Consumer Banking financial institutions. Their patented FlowTracker software solution enables bankers in Sales, Marketing and Finance functions to gain insights on sales, cross-sales, attrition and product substitution from data already available. By leveraging data visualization technology and intuitive interfaces, bankers can explore Money Flow information and make more informed, data-driven decisions using any device of their choice.
About Prisma Campaigns

Prisma Campaigns is a marketing platform designed to help financial institutions deepen their relationship with customers through omnichannel, digital experiences. By leveraging their existing data and online channels, banks and credit unions can execute data-driven campaigns to increase loyalty and share of wallet. Prisma Campaigns is a spin-off of Infocorp.


To learn more about the Trellance Partnership Program contact TPP@trellance.com.
Image credits: Unsplash, Trellance