Digital transformation, and the foundation required to support it, cannot be cut short. But, banks and credit unions that have catching up to do can benefit from working with providers that take a collaborative, agile and iterative approach in order to ease transitions, save time and energy.
In a recent article published in The Financial Brand, our CEO Felipe Gil, shares his thoughts on increasing the speed of deployment through vendor synergy.
Read the full article on The Financial Brand
Three approaches to digital transformation
Gil explores three schools of thought when considering a digital transformation in the piece.
The first is an incremental approach, which involves tackling the four major milestones—upgrading legacy systems, updating the digital channels, developing business intelligence and data analytics, and marketing automation—sequentially. He touches on the benefits of this approach, such as it being easier to get started, and that a financial institution can select best-of-breed vendors. A downside, however, is that going incrementally can be a slow approach and by the time the last step is complete, the first might need updating again.
The second approach is working with a "do-it-all" vendor (or, one that offers most of the functionality required for a digital transformation). Gil explains that this can make for a simpler integration, but banks and credit unions are unlikely to get best-of-breed.
A third option, one that our partner Tyfone—a provider of digital banking solutions—excels at and that has become our recommended approach is going concurrently. This is when a bank or credit union first identifies the key projects that will propel their digital transformation. Next, they evaluate best-of-breed providers and their agile mindset, interoperability and synergy with other vendors.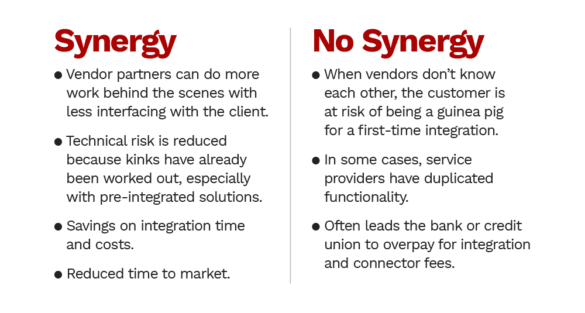 "As any financial institution evaluates their path for digital transformation, a few key points should be kept in mind. Move at the speed of digital, not the pace of banking. We can't do it alone, find the right partners. Find partners who focus on building long-term relationships centered around a culture of continuous innovation."
~Josh DeTar, Tyfone's VP of Sales & Marketing


With specific examples from our clients SIU Credit Union and Numerica Credit Union and our partners at Tyfone and Bankjoy, Gil explores what it means to source clusters of best-of-breed solution providers that have synergy with one another and are open to tackling each client's unique needs with a collaborative, agile and iterative approach.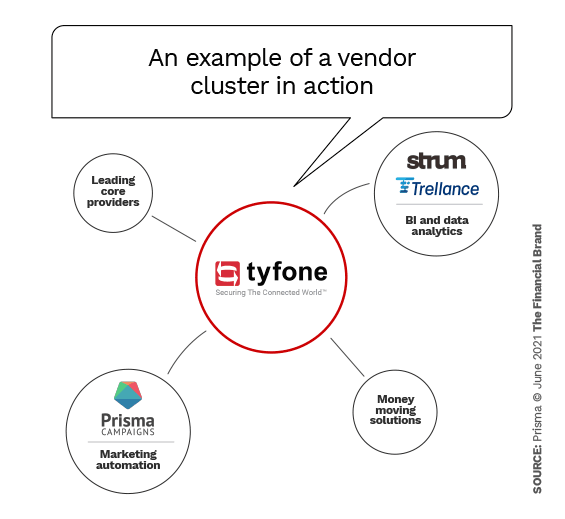 Read the full article on The Financial Brand
Learn more about this vendor synergistic approach and evaluate if it can help accelerate your digital transformation.
Image credits: Adobe Stock and The Financial Brand