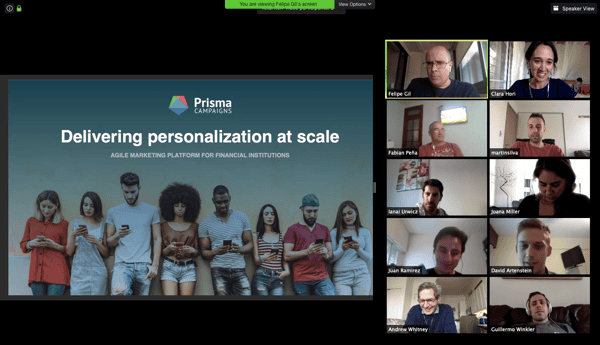 The Prisma Team goes remote for our Monday All-Hands meeting.
These are extraordinary times for all of us, and we hope you, your family, and your community are adjusting to these unprecedented circumstances. For many businesses, including Banks and Credit Unions, this is a major test of our digital capacity, our ability to solve problems, calm anxieties, and support the full spectrum of our members online.
The digital imperative has arrived, he's impatient, and his name is COVID-19.
Here at Prisma we're inspired to see our clients rising to the challenge and responding in creative ways to continue serving, and providing relief to, their members and clients. We're proud to be part of this #beRelevant task force.
As a result of what we've learned in these first days of the outbreak and how it is impacting industries and individuals globally, we've prepared some suggested best practices for Banks and Credit Unions to adjust their digital presence and marketing campaigns.
Suggested best practices for Banks and Credit Unions 03/18/20



(We're time stamping this list, because everything is changing rapidly and recommendations may be different a week from now).
1. Update your website with your latest status. Do this in such a way that is as prominent as possible and include today's date.
2. If you are not able to close the lobby, limit access by offering to schedule an appointment. Use online scheduling services to avoid using your call center for it. Start fast with no integrations if that's what it takes.
3. Evaluate whether existing campaigns being displayed are appropriate. If they're not relevant to the current context, they may be considered out of touch or insensitive.
4. Identify individuals who are most affected. Some possible criteria for targeting:
those in a certain geography/location
those who were about to close on certain products
those who don't use digital channels
those who are within a risk group (senior population, etc.)
those who work in the most affected industries (services, retail, tourism, etc.)
those who work in high-demand industries (virtual, healthcare, communications, etc)


5. Determine how quickly you can offer the products/services most relevant right now, such as:
Payroll advance loans
0% emergency loans
Deferred payment loans
Skip-a-payment
Reducing interests on existing loans
Fee waivers
Financial counseling
Others
6. Get ready for inbound first, that is, create a landing page for COVID-19 updates and there list the services/offerings that can be helpful. Try to make the "learn more", and hopefully the conversion process as digital as possible. Maybe there's an existing member assistance program that can be used right now.
7. Reduce friction in your online experiences/processes:
Implement form completion/digital document signing to keep offline processes moving.
Accommodate "newbies" who aren't used to digital processes.
Enable chat functionality, prepare step-by-step guides, and teach users how to use digital channels. Follow up on abandoned processes.
Prioritize preferred channels for each member to leverage familiarity.
8. Orchestrate
Halt previously scheduled campaigns, as necessary.
Closely monitor context to ensure the relevancy of campaigns.
Acknowledge the fluidity of the situation. Plan and execute in one-week sprints.
Each one of these ideas could be a project of its own and last for a month. But we don't have that luxury now. It's time to be agile and break the work down in what can be accomplished in the short term.
Over the next few days we will continue sharing these ideas and giving you concrete tools to put them into practice. Stay tuned.

If you need a hand, please don't hesitate to reach out to us. We continue to operate as usual and we're here for you to provide support and counsel.
Image credits: Prisma Campaigns